Welcome to Carla's Homepage
Carla Damron, Author of the Caleb Knowles Mysteries
PLEASE VISIT MY NEW WEBSITE AT
WWW.Carladamron.com
With the publication of Keeping Silent (2001) and Spider Blue (2005), the reading public got itself a magnificent new mystery novelist in Carla Damron. Keeping Silent, published in hardbound by Write Way Publishing and in mass market paperback by Worldwide, was named a "paperback best bet" for 2002 by Overbooked.org and has received impressive reviews from many mystery reviewers and newspapers.

Spider Blue (Bella Rosa Books, 2005), the second Caleb Knowles novel, was reviewed by the Charlotte Observer:
South Carolinian Carla Damron brings us her second novel starring Caleb Knowles, a social worker with a delightfully dry sense of humor. Business is booming at Knowles' small office, which is handling the therapy for a local mill that just experienced a multiple shooting. Caleb is also trying to help a 4-year-old girl whose mother was stabbed to death.

Damron has a nice little series shaping up here. Her own experience as
a clinical social worker lends authenticity, and I especially enjoy how
she works in the character of Caleb's brother Sam, a deaf artist.
Bella Rosa Books released Spider Blue in a trade paperback edition in 2006.
What's Next for Carla? Check "author appearances" page!
What the reviewers say:


"Oh what an alluring web she weaves

. Damron develops realistic characters whose emotional entanglements and depths of despair are rendered all the more penetrating by her 'just plain folk' portrayals. Her carefully constructed plot and thoughtfulness about social ills contribute to a noteworthy work... she has the talent to play on a much broader stage." THE STATE,
Columbia
SC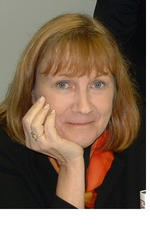 About author Carla Damron's Caleb Knowles mysteries:
Tapping into Damron's keen insight into human behavior, she developed main character Caleb Knowles, a devoted brother, an astute therapist, and a determined investigator.